LISTEN OUR FULL BLOG VIA PODCAST, JUST CLICK BELOW
Life has been disrupted by COVID-19 all across the globe. Even though people await vaccine or effective treatment against it, daily life activities don't stop. People want to be in places where they used to go before the pandemic and get back to their places of work in person. Despite the missing and urgency, people are still worried about returning. This uneasy time has made businesses and offices to search for ways to keep their employees and customers safe and continue their business operations.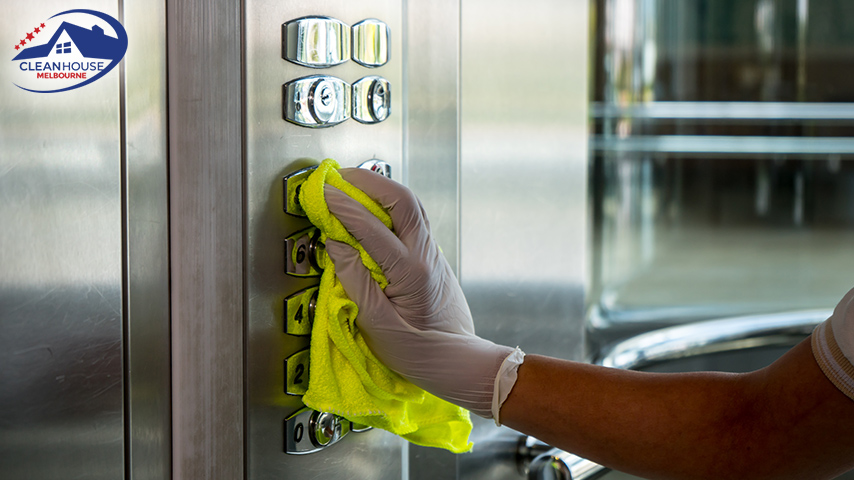 Cleaning and disinfection of all surfaces regularly is one sure way to keep your workplace safe for everyone. Many businesses and residents in Australia are hiring cleaning companies to keep COVID-19 away from their space. This is because many cleaning companies are equipped with specialized tools and chemicals to eliminate the virus. The difficulties posed by COVID-19 is a chance to show customers, occupants, tenants, and your co-workers that there is more to facility management than moping and fixing the faulty vents.
Now that local lockdown is easing and things may become normal, including work, travel, and other activities, how can facility managers assist in providing peace of mind? How can uncertainty be overcome by coming together with people, knowingly that people are still having the fear of contracting COVID-19? The answer is – commercial cleaning and disinfection. This can only be carried out correctly by professional cleaning company. The question now is – how can you choose the best commercial COVID disinfection cleaning company?
Tips for choosing the Best Commercial COVID Disinfection Cleaning Company
COVID Disinfection Company is a solution that provides certainty of easy resumption, visual reassurance, and professionally-checked science for workplaces. However, as you look into service providers, be cautious of popular issues. Be sure to ask these questions from any disinfection company and get the same answers during your screening process:
Does this company have many years of experience and success in cleaning services?
Coming up with an extensive disinfection program from the foundation during this global pandemic is a challenging effort, with the need for huge organizations with access experts from the industry and a long record of offering cleaning and disinfecting services. A good example is cleaning companies that are located in controlled environments such as clean rooms in hospitals.
However, for a new, small company that has not performed any skill-required cleaning before, be cautious of the reason why they are offering disinfection services for facilities all of a sudden. In summary, small companies may not be able to provide consistent, effective, and reasonable disinfection that your customers, occupants, tenants, or workers will trust.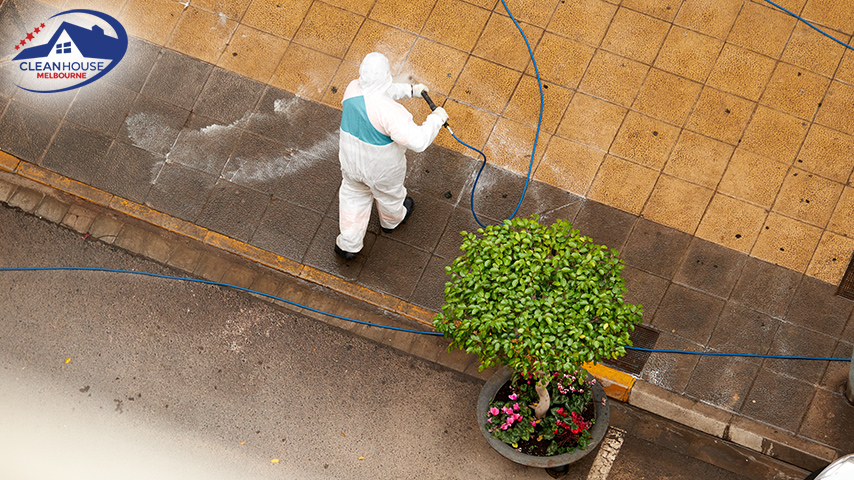 Do they have external professionals that screen their equipment, training, and techniques?
It is reasonable to agree that you don't know everything and get external help on some specialized issues. However, proven knowledge of facility cleaning services is a requirement for the growth of a disinfection program. Generally, facility experts don't have access to hygienists and experts on infectious diseases working in the industry. Gathering relevant experts together to tackle this rare challenge is essential to developing an effective program and a lot of services.
Get a cleaning company with internal professionals in facility services and the right external professionals giving recommendations and screening everything.
Are the cleaning service using disinfectants present on the EPA's List N (disinfectants effective against SARS-CoV-2)?
You cannot get everything done with a cleaner that arrives with a rag and a bucket of bleach. Even some cleaning agents can be dangerous to your surfaces and finishes while still ineffective. Only disinfectants listed on EPA's list N are recommended as effective against COVID-19. The list doesn't only screen and list effective disinfectants; it also approves the right disinfection technique and the elimination time. You can wipe away some disinfectants within 10 seconds, while others need to be allowed to work for 20 minutes. Your cleaning service must figure out the right and effective disinfectant as well as how to properly use them. Not all cleaning company understands this!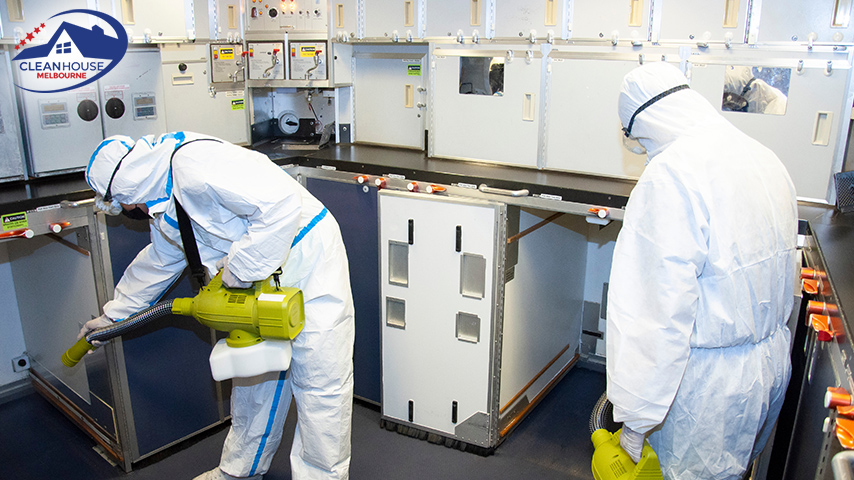 Did they develop their disinfection program based on guidelines for best healthcare practice? 
Any facility cleaning and disinfection program of a company must not only be based on the recommendations for best practice given by the CDC, WHO, and external experts such as infectious disease specialists and industrial hygienists, it should also be constantly updated to correspond with the updated guidance. The program and service updates must feature new discoveries in sections like how the virus is transmitted, how long it can survive on surfaces, and the disinfectants that are more effective against the virus. Are there dedicated professionals with the company you are discussing? How can the company switch to new guidance from national and global health and safety agencies? These and many other related question should trashed out.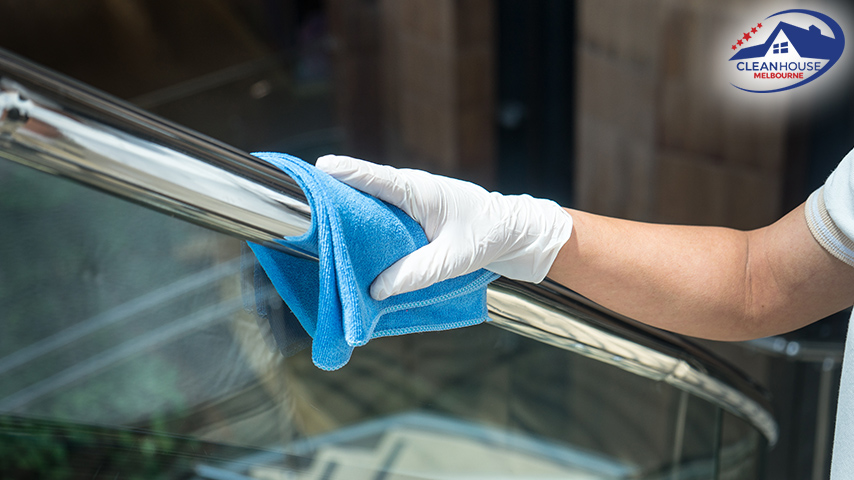 Are there different service levels on the disinfection program for flexibility, considering the occupancy or space usage?
In disinfection, no one services all. Different techniques work at the event intervals for different types of space, starting from re-entry to continuous daily needs to long-term comprehensive disinfection. Top-rated cleaning companies will first understand your type of space, and then personalize a program to your specific needs. This will generally include giving you the advice to go for comprehensive disinfection before returning or to perform a reset of your facility if it was partially opened, then continuous disinfection that manages the risk of your facility, as well as disinfection after working hours using tools like electric sprayers to get wider coverage more than usual disinfection of touch point.
Look for a cleaning company that asks and answers many questions in advance and then offers quality and useful solutions that satisfy your needs, not a company trying to provide you with bundled programs.
What is the cost of the service?
The provider will be spending a lot of money on creating a disinfection program from scratch with professionals in infection prevention and industrial hygiene, for uncountable hours spent on operational development, and comprehensive training. Providing the disinfection service with costly equipment, supplies, PPE, and disinfectants is expensive continuous spending. You, as a customer, should know that a high-quality service doesn't come cheap. If the price of the service you are being offered is almost the same as the normal cleaning before the pandemic, do not hesitate to ask questions and try to find out if the provider has cut back on quality.
Can this service provider give you support in other ways aside disinfection to mitigate the spread of COVID-19? 
The efficiency and effectiveness of your program will be multiplied when you partner with a facility company, and might also help your organization save some money. Some of these additional services include:
Occupant signage: Used to ensure healthy practices such as physical distancing and hand-washing.
Upgraded HVAC maintenance: This offers filtration that can eliminate the virus in the air and improve overall indoor air quality. The heating equipment of your home has been turned off wrongly if your home or office has been closed because of the transition to warmer weather. When necessary, we recommend you upgrade the current systems as well as technologies like MERV-14 high-efficiency air filters and devices to test the quality of indoor air.
Touch-less parking: This allows a reduction in interaction with possibly contaminated surfaces.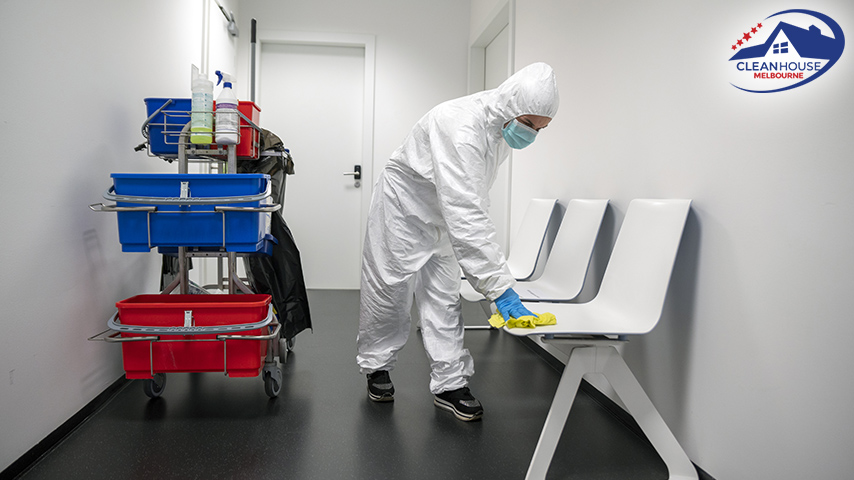 Keep assets that are important for servers and data departments to make sure you can support working from home and ensure proper communication with your teams
Your grounds can also perform in ways that enhance health and safety. Your requirements will be analysed and implement the right practices like comprehensive disinfection (like playgrounds, handrails, outdoor seating areas, and trash cans) as well as trimming of trees to increase exposure to UV.
Commercial COVID Disinfection Cleaners – what we offer
Our company is taking a preventive approach to the current worldwide pandemic in these trying times in order to help COVID-19-impacted businesses which comprises of cleaning and disinfection solution for commercials and residential. The major problem faced by most people is that, even after using the disinfectant solutions on frequently touched surfaces such as elevator buttons, doorknobs, light switches, and so on, microbial contaminants can start growing to start using the surfaces again.
Clean house Melbourne combines a professionally certified botanical disinfectant with an effective antimicrobial surface protectant that can give unrestricted protection for about three months or more. Our company employs the most active method to disinfect through the use of an electrostatic sprayer. It is sure that the disinfectant product is used evenly and will cover surfaces, unlike another invincible disinfection process.
We also use strong, clinical-grade disinfectants that are considered safe and approved to be applied on surfaces used to prepare food. Your office and factory will be free from germs, bacteria, fungi, and viruses through this process to get rid of 99.99% of contaminates that have been touched by our products. Here are the options of the service:
Cleaning and sanitizing of carpet and upholstery
Total wipe down of the entire exposed areas using cleaner and disinfectant
Sanitizing process using advanced technology on all surfaces and frequently touched areas
Regular sanitizing of office (optional).
Cleaning and disinfection services

Cleaning, hand wiping, fogging, and disinfecting of the entire vertical, horizontal, flat, and frequently touched surfaces not restricted to: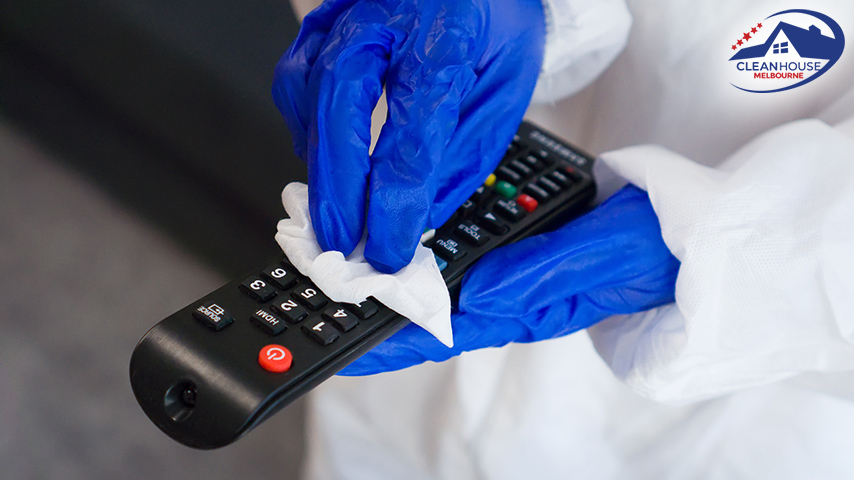 walls, ceilings & floors
appliances and kitchen areas
desks, tables & seating areas
copiers & printers
telephones & entertainment
steam cleaning of carpet & upholstery
cabinets and countertops
doorknobs and handles
light switches and covers
faucets & handles
computers, keyboards
Our company is a leader in the industry when it comes to reducing disaster and recovery from it. We have enough experience of more than 25 years in providing decontamination and disinfection services for structures contaminated by storms, fire, mold, water, and so on. We are currently providing School COVID disinfection,
office COVID disinfection
,
House COVID disinfection
,
Aged Care COVID disinfection
,
Medical Center COVID disinfection
,
Warehouse COVID disinfection
, and for manufacturing plants.
The whole of our cleaning protocols is in compliance with the CDC guidelines. The CDC approved, and EPA registered disinfectant products for industrial is used by Clean House Melbourne, and it widely kills the virus during COVID-19 cleaning service.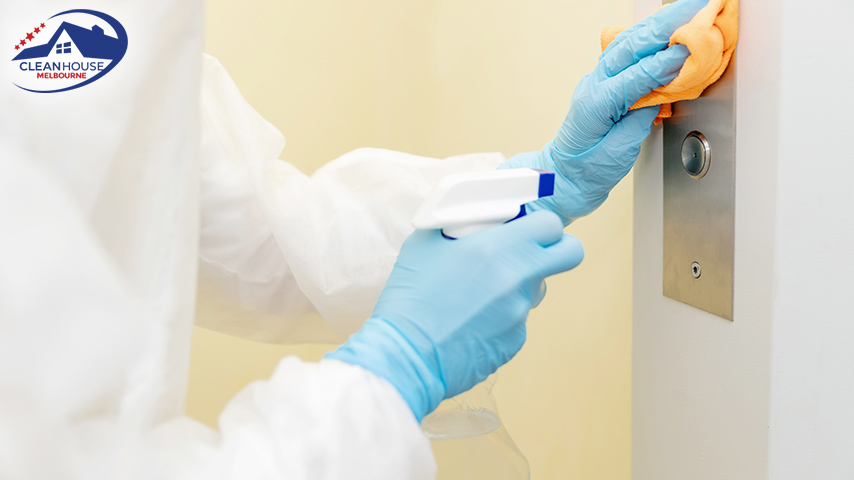 Contact Clean House Melbourne Now!
The demand for preventative cleaning and disinfection service keeps increasing as the pandemic doesn't show any sign of going finally.
Contact Clean House Melbourne
now to book an appointment! Thanks