In these uncertain times, there is a lot of confusion around us.
What to do when you or a family member is tested positive to COVID-19?
That's a difficult place with NO one of us wants to be found. However, it's part of our new normal, and NO one is exempted, even the double vaccinated.
Everyone has, at some point, thought about this question, and it's not simple to answer. Here in Clean house Melbourne, we take Covid deep cleans for homes, home care and businesses very seriously. We have two certified and trained teams who can intervene and make the premises covid safe within 24 hours.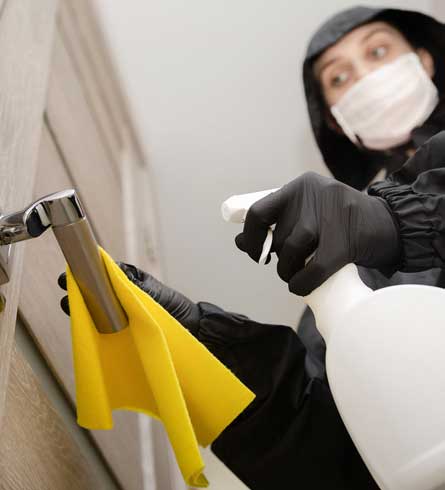 In clean house Melbourne, our motto is safety first. We mean your safety, ours and everyone's wellbeing around us. In case of an outbreak or when someone is tested positive for COVID-19, a 14-day quarantine has to occur in complete isolation. Then, you need to organise a COVID clean as soon as you are cleared or as soon as possible. This will depend on if you are going to isolate yourself at home or in a hotel quarantine. This is extremely important to guarantee the safety of all the people living with you. Our team of expert COVID cleaners are well trained and certified on all the infection measures to protect themselves first from getting the virus and spreading it among their family, neighbours and friends. Above all, They know how to make sure that the properties we covid deep clean are left with all the high touch areas well disinfected and that it is safe for everyone to come back home as soon as we finish.
Our team strive to use the best products recommended by safe work Australia and the health department to kill any type of virus including Covid-19, Sars, Hiv, Ebola, Flu or hepatitis. We are up to date with all the federal and state government recommendation and the best practices.
Clean house Melbourne has a small team of trained COVID cleaners who are specialised in infection outbreaks and can meet all your home disinfection requirements. We try our best to book any COVID clean as soon as possible and within 24hrs, but we will NEVER send anyone who is not totally trained to do the job. We are very flexible, and we will work with you to make your home or home care disinfected and sanitised as soon as possible.
If you have any query, please reach out to our manager on
0407 094 444
We are open 7 days a week and bookings start from 6 am every day.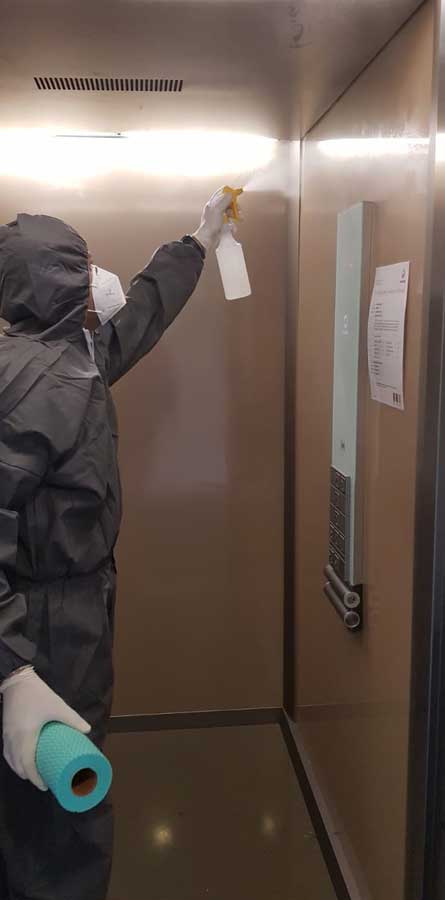 How we do our COVID clean?
All our COVID cleaners gear up before entering a CORONA virus-infected home. They change outside before entering the Covid site or infected home. They are covered from head to toes with Special personal protective equipment (PPE) and once they are finished, they put all their coverage in a double bag and trash it.
Our PPE include a one-piece top to bottom outfit, mask, glasses, gloves, and shoe covers.
Covid deep clean is not a spring clean. It's only to disinfect the high touch areas and to make your home Covid safe. With this service, please do not expect us to vacuum, sweep, deep clean or spring clean your home.
The home disinfection from COVID happens in 2 phases:
Phase one:
With a detergent, we manually clean all the high touch and high traffic areas such as:
All entries and Exits
All the light switches and plugs
All the mirrors
All doors and door handles
All outside drawers and their handles
All chairs and tables
Outside of Rubbish bins
Leather Couches and coffee tables
Window handles
Blinds edges and Blind chains
Garage entrance: doors, door handle, switches, … etc
All Bathrooms and toilets (including sinks and around washing machine's door)
All the kitchen outside: doors, handles, edges, stove handles, appliances, cabinets, around dishwasher door, floors, benches, fridge outside and around it
Any desks: monitors, mouses, phones, keyboards … etc
Any leather or plastic chairs
Outside sitting area
Home gym
Home theatre
We can also Covid Clean your garage and cars. Ask for it when you are making your Covid clean booking
NOTE: DHHS recommend disinfecting all all the carpets, mattresses, fabric chairs and fabric couches. The only way to disinfect them is through steam cleaning. This is a service that our team can provide you, on the same day after the home Covid cleaning and at extra charge.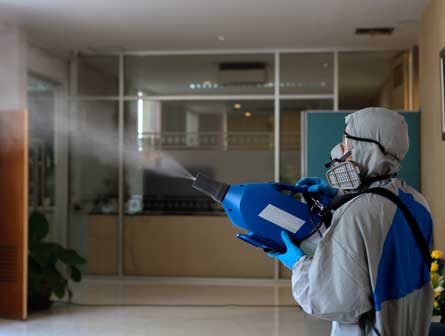 Phase 2:
Cleaning manually all the high touch areas with a TGA approved disinfectant. As soon as we finish, it will be safe for everyone to go in. There is NO need to wait. Our chosen disinfect claims to kill Covid in just 2 minutes, and it cause NO harm to adults, children or pets.
During the home covid cleaning, we prefer that NO one is in the house because the disinfectant odour is very strong. It is not good for you and for your eyes. However, if this is not possible, then everyone can gather in one room. We will clean the whole house first. Then everyone moves to another area and we clean that room for last.
What our client says about us
Frequently asked questions:
Q. Is COVID clean a deep clean?
A. NO, a COVID clean is clean centred on killing the Coronavirus and to make properties COVID safe.
Q: How soon can I book a COVID clean?
A: We are able to organise COVID cleans within 24 hours. lately, in Melbourne, as the covid positive cases rise, we might be little busier and require another 24 hours to accomodate your home Covid Deep Clean.
Q: Is Vacuuming and mopping part of COVID clean?
A: Only mopping is part of the COVID deep clean. Vacuuming can be done as an extra job and only if necessary (when the carpets are very soiled)
Q: Can I be assured that after your home disinfection, I will be safe with my family at home?
A: Yes, the fact that we have these 2 phases of cleaning in place is aimed to leave NO chance to the virus to survive in your property and to make your home Covid safe. These 2 phases are what the DHHS recommend us to do.
Q: Can anyone do The COVIC clean?
A: NO, and absolutely not everyone can do it. This is NO a joke. We can't play with people's health, safety and wellbeing. In Clean house Melbourne, we take it very seriously. However, we have only 2 well-trained teams and once they are busy, we don't take any more bookings. We can't afford to send unqualified personnel to do any Covid cleans
Why?
It will jeopardise their health and our clients' health, which is against our value of serving and helping people live in a safe environment.
Q: Are you chemicals effective and will kill the CORONAVIRUS?
A: NO doubt, it will. The disinfectants we use are TGA approved and recommended by the Australian health department. We use Netbiokem DSAM, a commercial-grade disinfectant that kills SARS-COV 2 (COVID-19) virus after 2min.
Q: How much does it cost to have my house Covid disinfected?
A: It depends on the size, number of bedroom/bathroom/living area, the location, the amount of furniture and areas we need to disinfect and sanitise.
Q: How long does it take to do my home disinfection?
A: We are able to do it in less than half a day for a small size home care. If the property is extensive, it may take a day or two depending on how many rooms we need to do and the size of the team we are able to bring to the site.