WE ARE OPEN & OPERATING 7 DAYS FOR
COVID disinfection and sanitisation
House cleaning for essential cleanings
Commercial cleaning
End of lease cleanings
Move-in Cleanings
Carpet Steam cleaning
Upholstery steam cleaning
Emergency cleanings
October 27th update
YAY, Finally, we are open for bookings and to help you with any domestic cleaning and commercial cleaning
Call today to organise your deep clean to set your desired cleaning standard and then your regular cleaning service, therefore.
Call Mimmo
03 8583 9102
September 28th update
In step 2, all cleaning remains as in stage 4 and with NO change
Hopefully, in step 3, in Melbourne, we will be allowed to clean your home, do all your spring cleans and regular domestic cleanings
Meanwhile, we can help anyone who is not able to do his/her cleaning for any health or safety reasons
In addition, now, we can organise your COVID deep clean in less than 24hrs. We can also help you keep your business COVID FREE, with our regular disinfecting plans. Call us today for a free estimate
COVID-19 domestic and commercial cleaning update August 5th
COVID-19 is still among us and we pray that we can contain it and eliminate from our life very soon
Due to all the changes that are happening around us, we are gathering all the info we can to inform you of our cleaning services and what can be done. It's very confusing and we are doing our best to understand, inform and comply with all the new regulations.
Our aim is to contribute to eradicate the virus and to minimise the spread. Our fantastic cleaners are ready to help you with any "Essential house cleaning" or commercial cleaning or COVID disinfection and sanitisation. Rest assured that we taking all the precautions to keep everyone safe, including you. We confirm that NO one among our cleaners has tested positive to COVID-19 and we will never send any infected person to clean anywhere. We are monitoring our staff very closely to ensure everyone is safe. From Business Victoria, we have received this good news.
We can still offer our cleaning services in Melbourne to:
All people registered and receiving payment/support from any or similar institutions such as NDIS, TAC, Homecare, … etc
All people who can NOT clean themselves, for physical, mental, emotional, health or safety reasons. Fill in this form
Move out cleaning
Commercial cleanings (as per normal)
Carpet steam cleaning for a move-out and move in cleans
CLARIFICATIONS
These clarifications are done to the best of our knowledge and in the midst of all this unprecedented confusion
If you don't want to do your cleaning does NOT qualify you at all to request our cleaning services. Please be reasonable and help us follow the government orders.
To qualify and request our cleaning service, you need to fill up a form stating the real reason why you have asked for our cleaning service. It has to genuinely comply with the fact that you are unable to do your cleaning by yourself. The cleaning service should be requested for health and safety reason ONLY, or if it unreasonable or impossible for you to do your own cleaning
To request a house clean from tomorrow August 6th to September 17th, you need to fill us a form and justify the reason behind the need for this clean. We will assess it, and if it complies with the new regulations, we will organise it for you as soon as possible.
Move out cleaning or End of lease cleaning or vacate cleaning are permitted because they will allow the real estate industry to continue going forward.
Move-in cleaning can be done only if the new tenant or buyer is physically, mentally, emotionally incapable of doing it themselves and need to fill-up the form online.
All regular house cleaning, which is not an emergency or does not qualify with the new regulations, has to be put aside at least until the September 17th (if NO extension is required)
We are going to put all our regular cleaning services on-hold until further notice from the Victorian government.
Carpet steam cleaning can be done for any reasons related to health and safety reasons.
We are all shocked by these new norms and this "new" normal life. We sincerely hope it will help Australia win over this pandemic and to get back to our loved free old life.
If you are in doubt, please give us a call and we will do our best to assist you as much as we can within the new victorian regulations.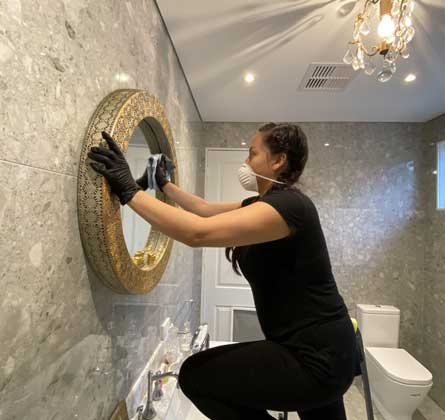 We are an essential service and we are very committed to your safety and well-being
We are offering home and office disinfectant cleans and disinfectant deep cleans in Melbourne Victoria.
Procedures in place for your safety and our cleaner's wellbeing
I confirm that none of our cleaners has been overseas within the last 2 months.
Any cleaner who is not feeling 100%, will NOT go to any cleaning job. If your assigned cleaner is not feeling very well, on your booked day, The cleaner will NOT go ANYWHERE. We will let notify you, and we will do our best to send you another healthy cleaner or the same day or on another day. We will NOT skip your booking or cancel on you.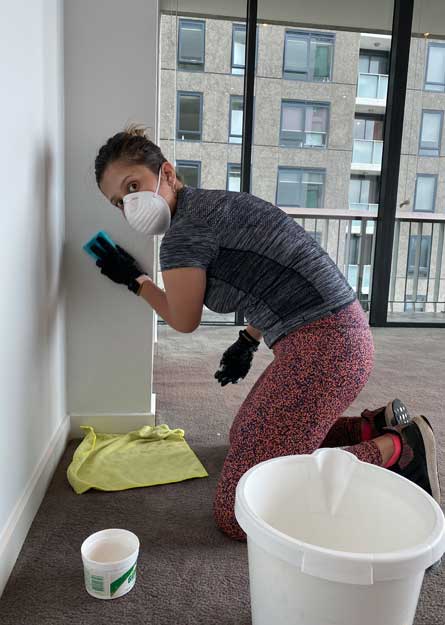 YOU CAN TRUST US
Safety First
Your safety and our cleaners' safety are very important to us
The Cleaners are all instructed and trained on the best practices on keeping themselves and our customers free from any contamination and cross infection. They will do their best to keep social distancing as much as possible. Help us maintain, please. They all have done the infection control training for cover-19 in March 2020, which was delivered by the Australian department of health. NO one of our cleaners have EVER tested positive to the virus and NO one has been overseas in the last 3 months.
For our cleaners' sake, we ask you, If you are not feeling very well, please let us know as soon as you know. It's your moral duty and we count on you.
Don't worry, NO cancellation fee will be asked, and we can reschedule your cleaning any other time/day once you are feeling well and have NO symptoms of Coronavirus.
We can help you protect your home and office from Virus spread
We are still OPEN 7 days a week From 6 am to 10 pm
Call today for a free quote over the phone. As we are deemed as an essential service, we can still help you disinfect and sanitise your home and your office today.
Let us help you
Our cleaners are trained to protect themselves from the coronavirus and also on how to limit its spread.
BEST PRACTICES
Source: Queensland Health, a study from NIH/Princeton/UCLA
https://www.news.com.au/lifestyle/health/top-tips-to-stay-healthy-amid-coronavirus-crisis/news-story/a926aadde3d2d86be82b8255df3c4f06
COVID-19 can live on plastic for up to 72 hours, steel for up to 48 hours, cardboard for up to 24 hours and copper for up to four hours, according to a recent study.
Frequently touched surfaces, such as doorknobs, bathroom fixtures, toilets, phones, keyboards and bedside tables, should be cleaned at least weekly.
If anyone in your home is sick, these surfaces should be cleaned daily.
Start cleaning in the cleanest area and finish in the dirtiest area to avoid cross-contamination.
Linen should be regularly washed in hot water.
Do not touch used linen against your clothing while carrying. Use a laundry basket or similar.
Mechanical cleaning with detergent and water, followed by rinsing and drying, is the most effective method for removing germs from surfaces.
Disinfectants are only necessary if a surface has been contaminated.
If cleaning a room where someone with COVID-19 has been, use a 1000 ppm bleach solution to clean surfaces and ensure you are wearing appropriate personal protective equipment such as a disposable apron, gloves, a mask and goggles.
ROAD TO FREEDOM
MAY 12th, 2020
Daniel Andrew's update
The coronavirus is still alive between us
Victoria lockdown eased: Step 1
Social distancing stays in place
5 visitors at home from Wednesday
10 people gathering in public
10 people participating in sports activities: hiking, golf, fishing, playing footy, or walking
10 people together in small prayer groups, weddings, funerals, community meetings.
NO more than 10
School reopen on May 26th with a very different look and a new set of rules for children to be dropped off and collected.
MAY 9th, 2020
Scott Morrison
In Australia, The road map to ease the restrictions will be undertaken at a different speed in every state and in proportion to the level of infection registered daily.
The ease of the restrictions will be done in a gentle, careful and monitored way
The road out of the lockdown will happen in 3 baby steps:
Step 1:
5 visitors at home
10 people gathering in public, Cafes, restaurants and weddings
30 people in funerals
Some local and regional travel will begin
Pools and playgrounds re-open
All children return to child care, primary & secondary schools
Step 2:
In 30 days. All must record clients details
20 people: at home, public places, cafes & restaurants, Cinemas, galleries, theatres, churches and weddings
50 People in funerals
Re-open: Caravan parks, camping grounds, beauty therapy, massage and tattoo parlours
Some interstate travel will begin
Step 3: 30 days after
100 people gathering. Reopening: food courts, pubs, clubs, bars, nightclubs
Workers return to workplace observing the social distancing of 1.5m
Borders might open for flights to New Zealand
APRIL 20th, 2020
Thanks to the 1% rate of infection registered in the last eight days, and the opening of the school, our clients are feeling safer. Some of them have also started resuming their regular cleans with Clean house Melbourne. We want to assure you, with NO shout of a doubt, that all our expert cleaners are healthy and that we are all following all the government's recommendations.
All our cleaners have now their infection cleaning certificate after they have all passed the "infection control training – COVID 19".
This is to ensure that all our professional cleaners will work safe and know how to protect you and your family from the coronavirus spread.
We are open seven days a week, and new clients are very welcome
To help our customers, for all April 2020, we are giving a 10% discount to any customer (old or new), when they book their spring clean or office spring clean with us.
APRIL 4th, 2020
5274 cases of vivid-19 in Australia
In Australia, we are now in the suppression stage, whilst more than 1 million cases of COVID-19 world-wide
Six months is a good indication of changes
Banks will have to help renters and landlords
The infection rate has fallen to 5%
Prime Minister words:
Free childcare: relief for parents in centres which will have to be open
Stay positive Australia, we will get through this together
People should not be going away for the Easter holidays. This year: Easter at home
Every Australian matters
We have the highest testing rate in the world
Patience must become our virtue in Australia
Landlords: Do the right thing; support each other and working with each other
We can change the way we live but it doesn't change who we are
March 30th, 2020
As per the prime minister's announcement:
In Victoria, due to the new 56 new cases, which have raised the state total of infected people to 822 and to 4 people dead, Victoria is now going to stage 3 with the Coronavirus
If you gather more than two people (who are not family members), in your home, for food or drinks, you are breaking the law. The Victorian police can enforce that with at least $1600 fine and they will not hesitate to take further actions against you. This is how serious this situation is.
This is about life and death
No gathering with friends is worth someone's life
Only 4 reasons to leave home:
Medical reasons
To buy what is really needed when it is really needed. NO window shopping
For physical exercise
To go to work
If we all follow the commonsense and these rules, we can limit the spread of the virus and hopefully can go to the other side of it quicker.
Today appeals:
STAY AT HOME
STOP SPREADING THE CORONAVIRUS
The new measures will be in place from midnight tonight
Do the right thing or people will die!
March 26th, 2020
As per the prime minister's announcement:
House cleaning and sanitising are classified as an essential service. We are happy to assist you with any cleaning and sanitation needs.I, Mimmo, owner of Clean house Melbourne, confirm that none of our cleaners has been overseas within the last month.
Any cleaner who is not feeling 100%, will NOT be sent to any cleaning job. If you assigned cleaner was not feeling very well, we will let you know, and we will do our best to send you another healthy one. We will NOT skip your booking or cancel on you. You can trust us.
The Cleaners are all instructed and trained on the best practises keeping themselves and our customers free from any contamination.
For our cleaners sake, If you, customer, are not feeling very well, please let us know as soon as you know. It's your moral duty. Don't worry, NO cancellation fee will be asked, and we can reschedule your cleaning any other time.
We are observing and following the update on the Covid-19, and we will update you if there are any news.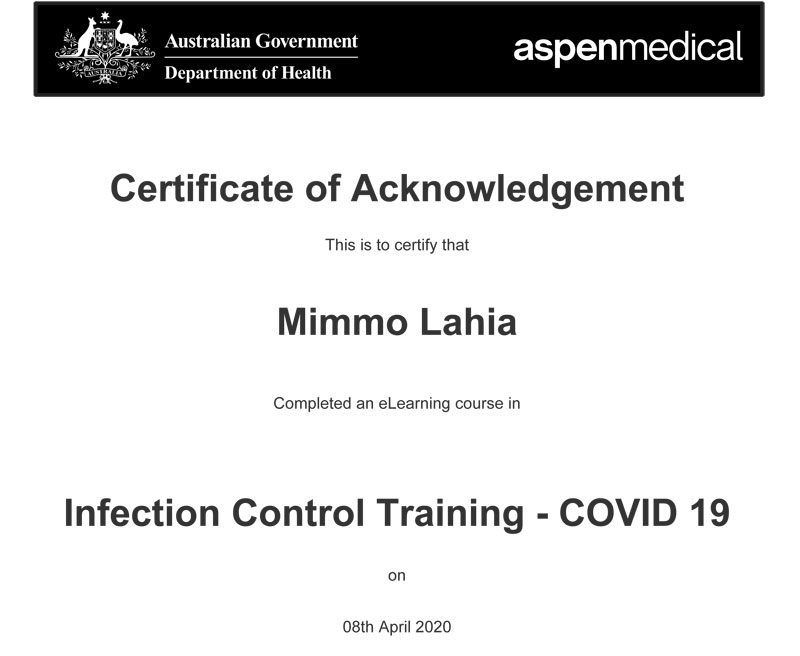 Thank you for your loyalty, and you can continue using our cleaning services for any cleaning or disinfecting cleans. Now, more than ever, keeping your home clean and disinfected, is becoming a necessity and not any more a choice. Let us help you maintain your home or office germ-free and with NO risk to your family and employees.
Let us all work together towards eradicating this coronavirus and to start living the good life we are used to. Contact our owner and manager Mimmo for any question or query you have
03 8583 9102
He receives calls every day until 10 pm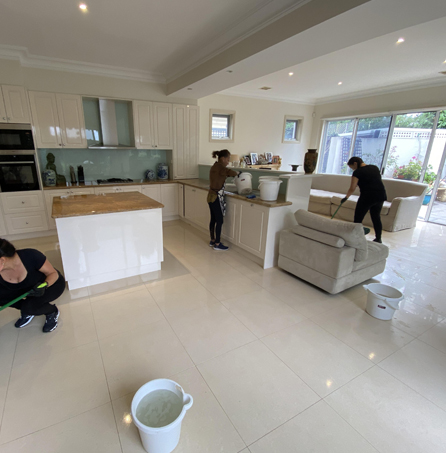 Why should you book a cleaning and disinfecting service today?
Clean house Melbourne can be your best ally to fight the coronavirus.
Our healthy cleaners can come to you, and work around you to disinfect your place of residence or work. Cleaning services is deemed as an essential service; therefore, we will continue working even during the lockdown. Please allow us to help live and work in a healthy and sanitised environment. We highly encourage disinfectant cleans and disinfectant spring cleans.
To help our clients, we are NOT going to charge anything extra to sanitise their properties.
book your house cleaning today
We will NOT take advantage of this opportunity to ask you for more money. We will keep our prices the same. It's a promise. For all enquiries, please call our manager Mimmo 03 8583 9102