COVID 19 Disinfecting Service by Trained and Qualified Professionals in Jacana
If you are looking for a group of highly experienced, skilled and impeccably trained professional cleaners to take care of your property and carry out the required COVID-19 decontamination, cleaning, and disinfection in Jacana you must look anywhere beyond Clean House Melbourne!! Indeed, with years of experience in specialised cleaning and decontamination services to our credit, we have been carrying our extremely high quality professional COVID-19 decontamination, disinfection, cleaning services in Jacana ever since the breakout of this pandemic, to make sure that our clients remain safe and healthy at their home as well as their workplace.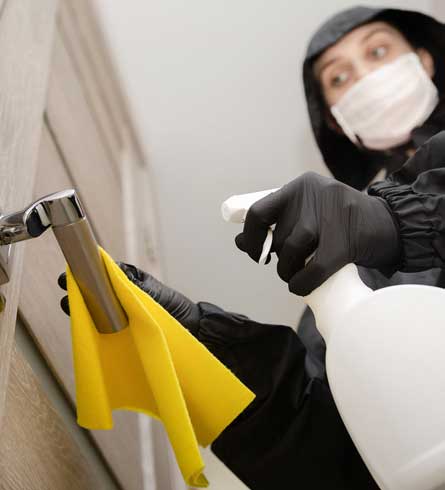 What makes us one of the most trusted names?
When it comes to carrying our personal coronavirus decontamination services in Jacana, Clean House Melbourne is one of the most trusted names …and not without reasons!
Every professional who we press into service is highly qualified and are professional enough to carry out some impeccable cleaning as per the need of the hour.
They are trained to use the latest state of the art cleaning tools and have the requisite knowledge of carrying out decontamination cleaning services For Coronavirus Jacana as per the norms and strictures set out by the Govt. of Victoria.
We would use only and only industry and hospital-grade cleaning agents, which are eco friendly, and hence never pose any threat to your health, the assets you have, or to the environment.
They would carry out comprehensive fogging service, with the help of the latest state of the art fogging machines and then follow it up by cleaning every surface, more so the high-touched ones, by religiously following the cleaning protocols.
Our cleaners will be in safety gear like the PPE, the gloves, eye guards and face shield, masks, and even boots and would tell the occupants to remain confined in a specific area to ensure we never are the cause of contamination.
We would never press into service any of our cleaners with symptoms that have even the simplest semblance with those exhibited by the Coronavirus positive patients.
We are accessible 24×7 and would turn up at even the shortest of notices.
Though our 24 hr Covid-19 cleaning, decontamination specialists in Jacana would never compromise on quality, we would offer our service at a cost-effective rate with an absolutely transparent service that will yield nothing short of 100% customer satisfaction.
And with no hidden costs involved and you being kept in the loop from start to finish, you know exactly what is being done to keep your property safe.
We are simply the best!!
Indeed, with such high-quality transparent Decontamination Cleaning Services Near Jacana, Clean House Melbourne is the most vetted decontamination company in Jacana, with the best Covid 19 Cleaning Quotes that will fit in your budget and respond perfectly to your cleaning needs and compulsions. CONTACT US for further details and to book a service call!