Restaurant COVID Cleaning Services in Melbourne
The chances of COVID spreading through restaurants are very high since they are the usual places of gathering. Moreover, since people dine out in restaurants, wearing masks or maintaining other COVID protocols is not entirely possible which leads to easy accumulation of the droplets on several surfaces that contain coronavirus. Therefore, keeping a restaurant free of the pathogen is crucial to winning the fight against it. For this, however, you will need to have the best cleaners by your side. You will have to choose professionals who are highly experienced in getting rid of the virus. But where should you approach? Well, the only company that can help you keep your restaurant a safe place and with a warranty is Clean House Melbourne, the provider of leading restaurant COVID cleaning service in Melbourne.
Our cleaners follow the necessary cleaning guidelines given by health authorities. Besides, they use the recommended cleaning agents that instantly kill the virus when carrying out restaurant cleaning. So, you can rest assured that your establishment will always be safe against the contagious virus causing the pandemic.
Effective Restaurant COVID Deep Clean Service in Melbourne
Our restaurant COVID deep clean service in Melbourne guarantees the complete removal of the virus from all the spots in an establishment. This is because we perform the cleaning in a planned manner. In the deep cleaning service, we clean the high touch areas such as surfaces of tables, chairs, bar counters, doorknobs, switchboards, toilet seats, etc. in the restaurant where the virus can remain active for days.
The cleaners from Clean House Melbourne use cutting edge tools and equipment to deep clean your restaurant. Also, while cleaning, they take the necessary safety precautions as directed by the competent authorities. This includes wearing masks, PPE kits, goggles, etc.
Premium Restaurant COVID Cleaning Service
Call us at Clean House Melbourne to book or get a restaurant COVID cleaning service quote. Or, click the 'Enquire Now' button to send your queries to us online.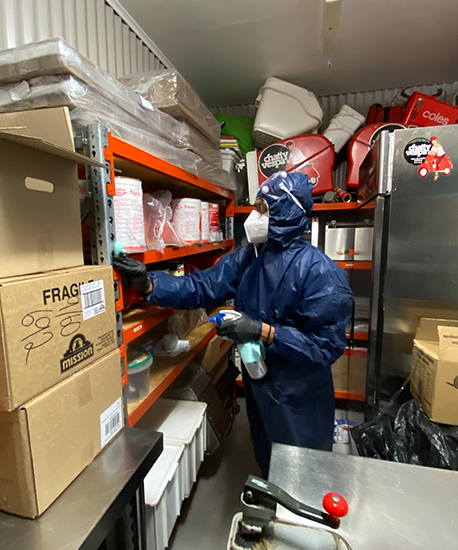 Areas Cleaned By Our Restaurant COVID Cleaners in Melbourne
Our restaurant COVID cleaners in Melbourne make your establishment immaculate by cleaning the
Floor
Kitchen
Bathroom
Walls and Ceiling
Tables, Chairs and Desks
Windows
High Touch Areas
Carpets
Furniture, etc.
Since these places are cleaned with care, the risk of the virus spreading to people from the surfaces in your restaurant is eliminated.
Restaurant COVID Disinfection in Melbourne
Followed by cleaning, our cleaners carry out restaurant COVID disinfection in Melbourne. That means, they will apply recommended sanitisers on the high touch areas as extra protection against the virus. Moreover, after deep cleaning, the disinfection process is necessary because the virus can easily stay active on surfaces for a longer duration. But if and when these solutions have been applied to the surfaces, the virus becomes inactive when it comes in contact with them.
Thus, when you have Clean House Melbourne as your restaurant cleaners, you can consider your establishment to be well guarded against the pathogen.
Why Choose Our Restaurant COVID Disinfection Service?
The service we are offering will be ideal for you since
Our licensed and skilled cleaners will follow recommended restaurant cleaning protocols
Our cleaning professionals will deep clean all areas of your restaurant
We use recommended disinfectants to eliminate the pathogen effectively
Our cleaners carry out restaurant cleaning in an organised manner
We carry out restaurant cleaning every day, even on holidays
We guarantee the best results from our restaurant cleaning service
To book the service or to get your queries solved by our cleaning professionals, call or send us an email now.
Areas Covered
Restaurant Covid Disinfection Brooklyn
Restaurant Covid Disinfection Kingsville
Restaurant Covid Disinfection Maidstone
Restaurant Covid Disinfection Tottenham
Restaurant Covid Disinfection West Footscray
Restaurant Covid Disinfection Albanvale
Restaurant Covid Disinfection Kealba
Restaurant Covid Disinfection Kings Park
Restaurant Covid Disinfection St Albans
Restaurant Covid Disinfection Ascot Vale
Restaurant Covid Disinfection Highpoint City
Restaurant Covid Disinfection Maribyrnong
Restaurant Covid Disinfection Travancore
Restaurant Covid Disinfection Keilor Downs
Restaurant Covid Disinfection Keilor Lodge
Restaurant Covid Disinfection Taylors Lakes
Restaurant Covid Disinfection Watergardens
Restaurant Covid Disinfection Airport West
Restaurant Covid Disinfection Keilor Park
Restaurant Covid Disinfection Covid Disinfection Niddrie
Restaurant Covid Disinfection Glenroy
Restaurant Covid Disinfection Hadfield
Restaurant Covid Disinfection Oak Park
Restaurant Covid Disinfection Broadmeadows
Restaurant Covid Disinfection Dallas
Restaurant Covid Disinfection Jacana
Restaurant Covid Disinfection Brunswick South
Restaurant Covid Disinfection Brunswick West
Restaurant Covid Disinfection Moonee Vale
Restaurant Covid Disinfection Moreland West
Restaurant Covid Disinfection Fawkner
Restaurant Covid Disinfection Craigieburn
Restaurant Covid Disinfection Donnybrook
Restaurant Covid Disinfection Mickelham
Restaurant Covid Disinfection Roxburgh Park
Restaurant Covid Disinfection Kalkallo
Restaurant Covid Disinfection Sunshine
Restaurant Covid Disinfection Melton
Restaurant Covid Disinfection Mitchell Shire
Restaurant Covid Disinfection Yarra Ranges
Restaurant Covid Disinfection Cardinia
Restaurant Covid Disinfection Sunbury
Restaurant Covid Disinfection Mernda
Restaurant Covid Disinfection Whittlesea
Restaurant Covid Disinfection Strathewen
Restaurant Covid Disinfection Whyndham
Restaurant Covid Disinfection Casey
Restaurant Covid Disinfection Moreland
Restaurant Covid Disinfection Hume
Restaurant Covid Disinfection Darebin
Restaurant Covid Disinfection Hobsons Bay
Restaurant Covid Disinfection Altona Meadows
Restaurant Covid Disinfection Laverton north
Restaurant Covid Disinfection Laverton
Restaurant Covid Disinfection Hoppers Crossing
Restaurant Covid Disinfection Deer Park
Restaurant Covid Disinfection Keilor
Restaurant Covid Disinfection Altona
Restaurant Covid Disinfection Werribee
Restaurant Covid Disinfection Wyndham Vale
Restaurant Covid Disinfection Tarneit