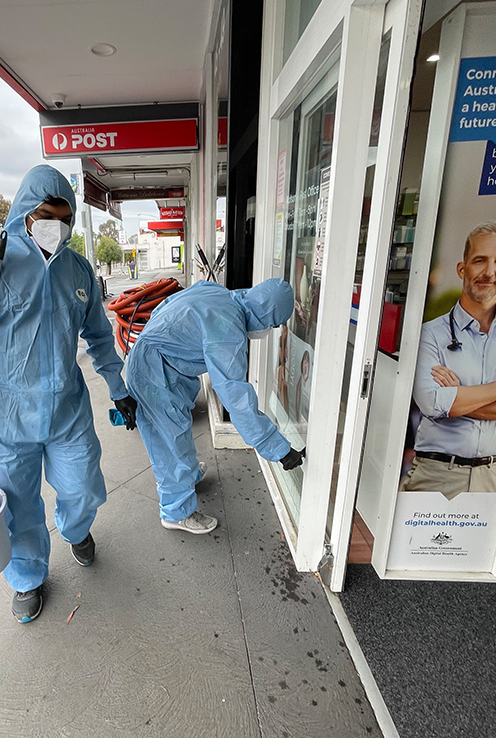 The Number One Pharmacy COVID Cleaning & Disinfection in Melbourne
When it comes to offering pharmacy covid cleaning in and around Melbourne CBD and the surrounding inner suburbs, Clean House Melbourne is the best in terms of perfection and professionalism. Ever since we have been offering COVID deep cleaning service, we have been putting unparalleled emphasis on meeting the bespoke cleaning and disinfection needs of our clients. Thus, we maintain the same stand, when it comes to offering pharmacy Covid cleaning in Melbourne.
We are home to the most skilled and qualified cleaning specialists, who would use all their experience and acumen to come up with some quality pharmacy Covid deep clean services in Melbourne that will meet your cleaning needs and compulsions.
Our cleaning experts are not only skilled and qualified, but they are immaculately trained with the latest COVID cleaning techniques and the proper use of the eco friendly, hospital grade cleaning products.
Thus, when it comes to conducting the cleaning, our pharmacy Covid cleaners in Melbourne would adhere strictly to the Govt-set COVID cleaning norms and techniques. They will use the latest tools and techniques and high quality cleaning products that will ensure best COVID cleaning results, and that also without posing any health or eco hazards.
Also, as one of the most trustworthy provider of Covid Deep cleaning for pharmacy in Melbourne, we never compromise on quality and safety, while serving.
That is the reason, we not only train our cleaners with COVID cleaning norms, but will also carry out their regular medical check up. In case any of our cleaners show up any symptoms that have semblance to those shown by COVID patients, they will be taken off from the cleaning roster and put in quarantine and subjected to COVID test.
When it comes to offering pharmacy Covid cleaning in Melbourne, our professionals will not only use the latest cleaning tools and techniques but will also follow the safety measures.
For instance, they will use gloves and masks, head gear and face shields, and high quality PPEs. They will maintain social distancing and will stick to the set norms, thus ensuring absolute safety and security.
if you want your pharmacy to be cleaned, you need to
call us
up for further details. Or get an online, upfront, free quote before booking a service.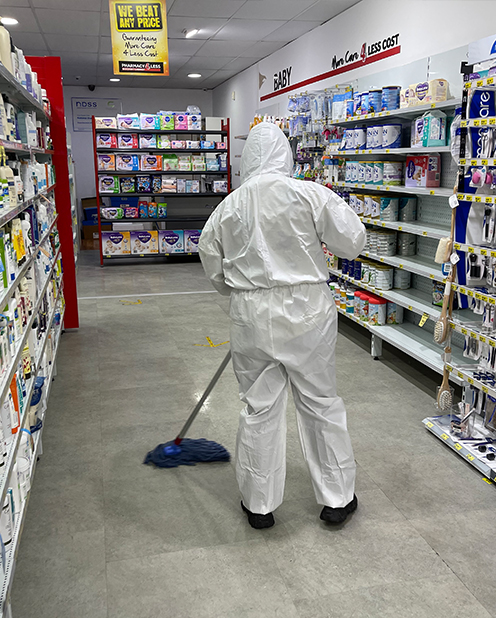 What our Pharmacy Covid Cleaning Service in Melbourne will include?
At Clean House Melbourne we come up with a pharmacy Covid cleaning service that will include:
Cleaning of the walls and ceilings, including the beyond-the-reach areas.
Cleaning and sanitising of the floor using the disinfection fogging techniques.
The windows and doors and their adjacent areas
The blinds and the furniture and fittings,
The racks and the store where the medicines are kept – after emptying them
The tabletops, the appliances, various hard and soft surfaces
Assets like computers, paper shredders, printers, photo copy machines, phones and the likes
Parking lots, generator rooms and AHU sites and the likes
Therefore you see, at Clean House Melbourne we come up with an all encompassing service, which makes us your one stop pharmacy Covid disinfection service provider in Melbourne.
Areas Covered
Pharmacy Covid Disinfection Brooklyn
Pharmacy Covid Disinfection Kingsville
Pharmacy Covid Disinfection Maidstone
Pharmacy Covid Disinfection Tottenham
Pharmacy Covid Disinfection West Footscray
Pharmacy Covid Disinfection Albanvale
Pharmacy Covid Disinfection Kealba
Pharmacy Covid Disinfection Kings Park
Pharmacy Covid Disinfection St Albans
Pharmacy Covid Disinfection Ascot Vale
Pharmacy Covid Disinfection Highpoint City
Pharmacy Covid Disinfection Maribyrnong
Pharmacy Covid Disinfection Travancore
Pharmacy Covid Disinfection Keilor Downs
Pharmacy Covid Disinfection Keilor Lodge
Pharmacy Covid Disinfection Taylors Lakes
Pharmacy Covid Disinfection Watergardens
Pharmacy Covid Disinfection Airport West
Pharmacy Covid Disinfection Keilor Park
Pharmacy Covid Disinfection Covid Disinfection Niddrie
Pharmacy Covid Disinfection Glenroy
Pharmacy Covid Disinfection Hadfield
Pharmacy Covid Disinfection Oak Park
Pharmacy Covid Disinfection Broadmeadows
Pharmacy Covid Disinfection Dallas
Pharmacy Covid Disinfection Jacana
Pharmacy Covid Disinfection Brunswick South
Pharmacy Covid Disinfection Brunswick West
Pharmacy Covid Disinfection Moonee Vale
Pharmacy Covid Disinfection Moreland West
Pharmacy Covid Disinfection Fawkner
Pharmacy Covid Disinfection Craigieburn
Pharmacy Covid Disinfection Donnybrook
Pharmacy Covid Disinfection Mickelham
Pharmacy Covid Disinfection Roxburgh Park
Pharmacy Covid Disinfection Kalkallo
Pharmacy Covid Disinfection Sunshine
Pharmacy Covid Disinfection Melton
Pharmacy Covid Disinfection Mitchell Shire
Pharmacy Covid Disinfection Yarra Ranges
Pharmacy Covid Disinfection Cardinia
Pharmacy Covid Disinfection Sunbury
Pharmacy Covid Disinfection Mernda
Pharmacy Covid Disinfection Whittlesea
Pharmacy Covid Disinfection Strathewen
Pharmacy Covid Disinfection Whyndham
Pharmacy Covid Disinfection Casey
Pharmacy Covid Disinfection Moreland
Pharmacy Covid Disinfection Hume
Pharmacy Covid Disinfection Darebin
Pharmacy Covid Disinfection Hobsons Bay
Pharmacy Covid Disinfection Altona Meadows
Pharmacy Covid Disinfection Laverton north
Pharmacy Covid Disinfection Laverton
Pharmacy Covid Disinfection Hoppers Crossing
Pharmacy Covid Disinfection Deer Park
Pharmacy Covid Disinfection Keilor
Pharmacy Covid Disinfection Altona
Pharmacy Covid Disinfection Werribee
Pharmacy Covid Disinfection Wyndham Vale
Pharmacy Covid Disinfection Tarneit