Construction COVID Deep Cleaning & Disinfection in Melbourne
The very concept of cleaning has undergone a sea change after the COVID 19 pandemic. So the industry that has been most severely functionally impacted by the pandemic is the cleaning industry. Every cleaning company has responded to this change by inducting COVID cleaning in their arsenal, thus meeting their clients' needs for hours. But COVID cleaning is not anybody's task. There are various facets of COVID cleaning and to master them, the cleaning companies need training, experience and skills. Thus, if you are looking for a name that is best in Melbourne for construction COVID cleaning, you must put stakes on a name that has been in the industry for long and has enough reputation in the market. With the most skilled, qualified and experts Clean House Melbourne is the best name, offering construction COVID cleaning in Melbourne.
We have been offering cleaning services for a long time and have in team, some of the best and the most qualified construction COVID deep clean experts in Melbourne, who are trained to carry out the cleaning as per the set norms and regulations of the Govt. of Victoria. They have access to the latest tools and technology and that helps us to come up with the best cleaning solutions.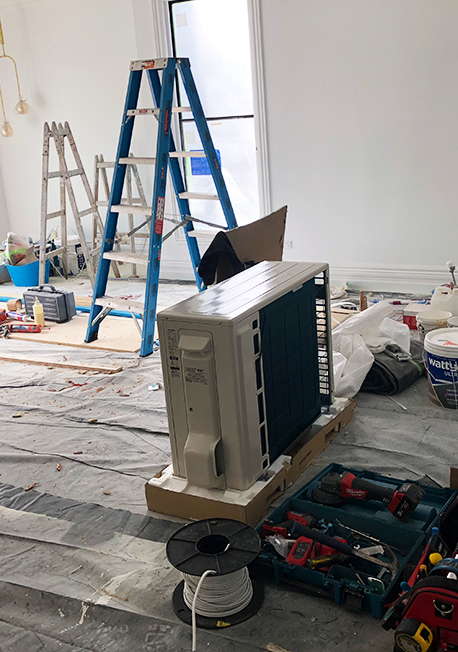 What makes our Construction COVID Cleaning checklist in Melbourne the best?
At Clean House Melbourne, we strictly adhere to the set checklist, while carrying out construction COVID cleaning services in Melbourne. And this makes our cleaning the most perfect and result-oriented. The checklist that we follow includes:
Assessment of Hazards:
Controlling and Prevention:
Promoting of Social Distancing & Masks:
Cleaning, Disinfection and Maintenance of Hygiene
It is this last stage where our intervention will make a lot of difference. While carrying out the cleaning, our construction COVID cleaners in Melbourne would carry out cleaning, and disinfecting with the use of the approved tools and technology for the best results.
They would use the appropriate cleaning mechanism, followed by fogging and disinfection as per the norms with the help of state of the art tools.
And for cleaning, we would use government approved industry-grade cleaning products for the best results.
They will stick to the set security norms by using high quality gloves, face shields, masks, and even specialised boots as the part of the PPE suite they wear while conducting the cleaning.
In short, they ensure that the cleaners are never ever the source of any infection, whatsoever.
What makes you wait then if you are in pursuit of construction COVID disinfection in Melbourne? Call us now to fix an appointment and we will get back to you at the earliest. Also you can get an online free quote from our end before you book service.
What makes our construction COVID cleaners in Melbourne the Best?
We are a fully insured company and all our COVID 19 Cleaners are licensed and bonded
They are highly experienced, skilled and qualified and they are trained on the latest COVID cleaning procedures, which make them the most trustworthy construction COVID cleaners in Melbourne.
Their health condition is regularly monitored and any employee, with any symptom that has slightest semblance with those shown by those with COVID are taken off from the roster.
Despite unparalleled quality, we are never found charging exorbitant fees against our service.
We are experienced and have a tremendous rapport in the market.
Areas Covered
Construction Covid Disinfection Brooklyn
Construction Covid Disinfection Kingsville
Construction Covid Disinfection Maidstone
Construction Covid Disinfection Tottenham
Construction Covid Disinfection West Footscray
Construction Covid Disinfection Albanvale
Construction Covid Disinfection Kealba
Construction Covid Disinfection Kings Park
Construction Covid Disinfection St Albans
Construction Covid Disinfection Ascot Vale
Construction Covid Disinfection Highpoint City
Construction Covid Disinfection Maribyrnong
Construction Covid Disinfection Travancore
Construction Covid Disinfection Keilor Downs
Construction Covid Disinfection Keilor Lodge
Construction Covid Disinfection Taylors Lakes
Construction Covid Disinfection Watergardens
Construction Covid Disinfection Airport West
Construction Covid Disinfection Keilor Park
Construction Covid Disinfection Covid Disinfection Niddrie
Construction Covid Disinfection Glenroy
Construction Covid Disinfection Hadfield
Construction Covid Disinfection Oak Park
Construction Covid Disinfection Broadmeadows
Construction Covid Disinfection Dallas
Construction Covid Disinfection Jacana
Construction Covid Disinfection Brunswick South
Construction Covid Disinfection Brunswick West
Construction Covid Disinfection Moonee Vale
Construction Covid Disinfection Moreland West
Construction Covid Disinfection Fawkner
Construction Covid Disinfection Craigieburn
Construction Covid Disinfection Donnybrook
Construction Covid Disinfection Mickelham
Construction Covid Disinfection Roxburgh Park
Construction Covid Disinfection Kalkallo
Construction Covid Disinfection Sunshine
Construction Covid Disinfection Melton
Construction Covid Disinfection Mitchell Shire
Construction Covid Disinfection Yarra Ranges
Construction Covid Disinfection Cardinia
Construction Covid Disinfection Sunbury
Construction Covid Disinfection Mernda
Construction Covid Disinfection Whittlesea
Construction Covid Disinfection Strathewen
Construction Covid Disinfection Whyndham
Construction Covid Disinfection Casey
Construction Covid Disinfection Moreland
Construction Covid Disinfection Hume
Construction Covid Disinfection Darebin
Construction Covid Disinfection Hobsons Bay
Construction Covid Disinfection Altona Meadows
Construction Covid Disinfection Laverton north
Construction Covid Disinfection Laverton
Construction Covid Disinfection Hoppers Crossing
Construction Covid Disinfection Deer Park
Construction Covid Disinfection Keilor
Construction Covid Disinfection Altona
Construction Covid Disinfection Werribee
Construction Covid Disinfection Wyndham Vale
Construction Covid Disinfection Tarneit