Welcome to Clean House Melbourne, Your No. 1 Destination in Melbourne for Elite Commercial Pressure Washing Services!
Discover excellence with Clean House Melbourne, where we redefine the standards of commercial pressure washing in Melbourne! Your property deserves to shine, and we are here to ensure it does just that, enhancing both its curb appeal and safety standards. Embrace the allure of a pristine exterior with our unparalleled commitment to quality, backed by years of industry expertise. Choose us, your unwavering ally in exterior cleanliness.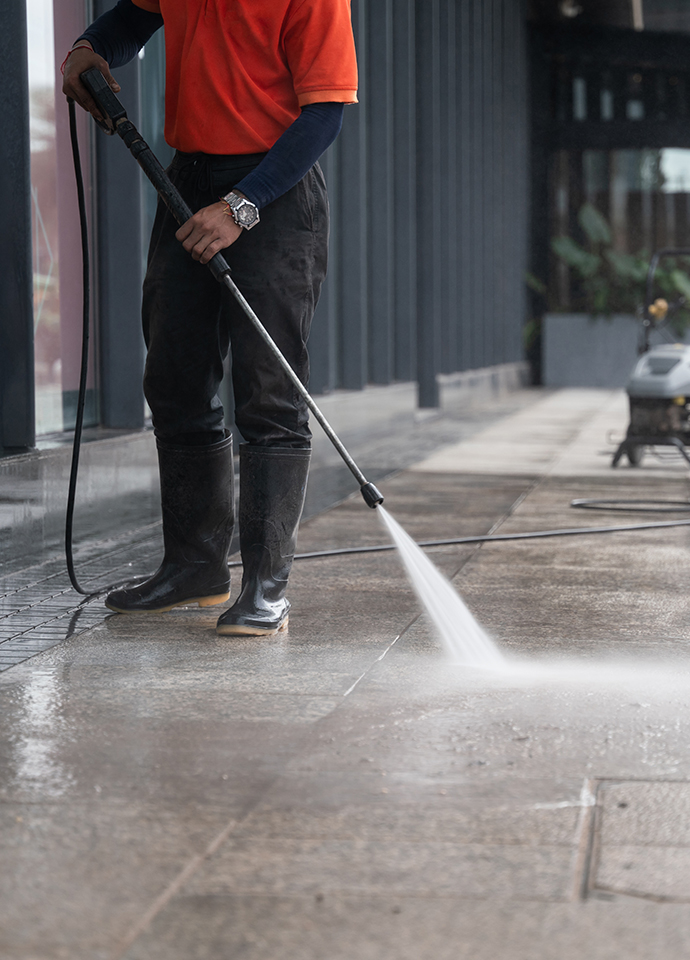 Our Services:
Commercial Pressure Cleaning: Unlock the power of cleanliness with our top-tier high-pressure cleaning services, meticulously designed to remove dirt, grime, and pollutants from all varieties of commercial establishments.
Building Facade Cleaning: Transform your building's exterior into a vision of cleanliness and allure with our expert facade cleaning services.
Balcony Pressure Washing: Elevate the charm and hygiene of your outdoor retreats with our specialised balcony pressure washing services.
Paver Cleaning: Witness the rebirth of your outdoor paved areas with our comprehensive paver cleaning solutions, designed to restore their luster.
Driveway Pressure Washing: Safeguard and beautify your driveway with our cutting-edge pressure washing services.
Stairs Pressure Cleaning: Guarantee the safety, look, and cleanliness of your stairways with our professional stair pressure cleaning offerings.
Pool Sides Pressure Cleaning: Let us transform your poolside into a spotless sanctuary of relaxation.
Terracotta Pressure Washing: Breathe new life into terracotta surfaces using advanced pressure washing techniques.
Sandstone and Stone Tiles Cleaning: Entrust us with restoring your sandstone and stone tiles, and watch them return to their original splendor.
Graffiti Remover: Get those unpleasant graffiti from your front shop, walls or floors with our Graffiti removal service
Why Choose Us:
Experienced Team: Our seasoned professionals are masters of commercial pressure washing, consistently delivering excellent results.
State-of-the-Art Equipment: We arm ourselves with the latest pressure washing technology and eco-friendly solutions, ensuring a flawless finish.
Competitive Pricing: Enjoy premium services without the premium price tag; excellence is now more affordable than ever.
Unwavering Customer Satisfaction: Your delight in our services fuels our dedication; we're not satisfied until we've surpassed your expectations.
Service Areas:
Proudly serving Melbourne and its surrounding territories, no project is too grand or petite for Clean House Melbourne.
The Power of Pressure Cleaning:
Mother Nature's elements, coupled with human activities and vehicular traffic, can leave your outdoor spaces looking less than stellar. Reclaim the beauty and cleanliness of these areas with Clean House Melbourne. Our pressure washing services offer a targeted solution, utilising specific techniques and cleaning agents for each surface type, ensuring a thorough and lasting clean. Trust in our expertise and proven methods, and join our legion of satisfied pressure cleaning clients.
We Specialise in Cleaning:
Paving, Brick, and Retaining Walls
Driveways and Timber Decking
Porcelain and Stone Tiles
Slate, Limestone, and Travertine
Quarry, Ceramic, and Sandstone Tiles
Terracotta, Bluestone, and Stone Pavers
Granite and Concrete
Reap the Benefits of Pressure Cleaning:
Embrace a pristine exterior, whether it's for your home, office or business. The impact is immediate, imparting a welcoming aura and ensuring a safe space. For business owners, this is a game-changer, projecting professionalism and adherence to safety protocols. Skip the DIY cleaning headaches; let our professionals harness the power of top-tier pressure cleaning to transform your property. Contact us today and take the first step towards a cleaner, more inviting space!
Contact-Us for Your No-Obligation Quote Today!
Connect with us
Our Timings
Opening hours:
6am to 10pm, 7 Days