Commercial Disinfection and Sanitisation by Professionals in Moreland West
The COVID 19 pandemic is of late weighing heavily on the psyche of every business owner, employees, and employers across Australia like the rest of the world and Victoria is no exception.
As we have to encounter this unprecedented situation together, CLEAN HOUSE MELBOURNE has planned to come up with unique commercial disinfecting & sanitising and COVID cleaning of offices in Moreland West to ensure your safety and security.
We consider keeping your office and workplace safe during this pandemic as our most important objective and that is why we have adopted some extremely high stature of cleaning by experts who are impeccably trained and are healthy. Indeed, in the wake of this pandemic, we are making sure that our cleaners who are turning out for commercial coronavirus cleaning services in offices at Moreland West are absolutely healthy and fit. We are making sure that none of our cleaners has not even the remotest symptoms of COVID 19 like running nose, or cough to even the mildest hint of flu.
What makes our cleaning under the present circumstances?
While carrying out our commercial and office disinfection services in Moreland West, we are strictly adhering to the environmental cleaning and disinfection principles for COVID 19 from the website of the Australian Government (health.gov.au). Indeed, thanks to our commitment, experience, expertise, and our policy of providing the safest possible service to our customers, CLEAN HOUSE MELBOURNE is the best choice when it comes to providing office and commercial disinfecting & sanitising services in Moreland West.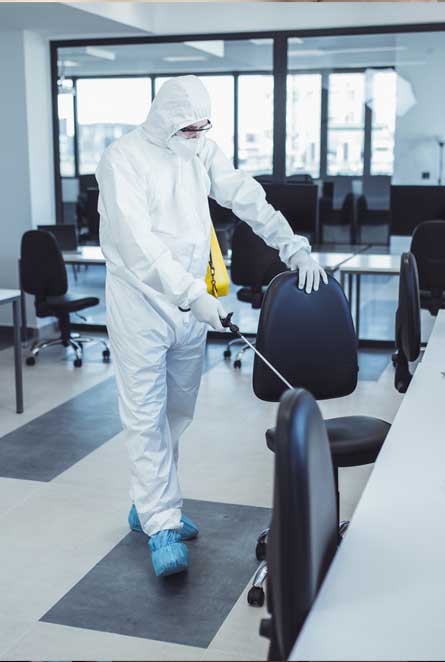 Comprehensive Cleaning and sanitisation service in Moreland West
As per the modalities rolled out by the World Health Organisation and the strictures by the Govt. of the State of Victoria, every non-hard surfaces (e.g tables, chair frames, and desks) and other objects (e.g. telephones, computer monitors, keyboards), door handles and knobs, and the likes are not be cleaned, sanitized and disinfected with hospital-grade disinfectants by trained cleaners.
The reason being, contamination on these surfaces touched by the employees and the visitor is one of the main sources of the spread of the virus. Thus, our team of professional cleaners would carry out a wide range of precautionary commercial fogging sanitisation and disinfection for offices in Moreland West using various hospital-grade antiviral cleaning agents along with various colour-coded cleaning apparatus, to thwart any probability of cross-contamination whatsoever.
Indeed, whether its daily office disinfecting & sanitizing in Moreland West of every touchpoint, or a precautionary comprehensive cleaning of your office, or sterilizing service, we at CLEAN HOUSE MELBOURNE have the required expertise as well as equipment, along with the know-how of how to professionally cleaning your office.
Indeed, our commercial COVID cleaning at your office in Moreland West helps you to keep your business going and at the same time, your employees safe and healthy. For further details, CONTACT US now.