Cleaning the home and ensuring that there is no dirt, dust, bacteria, etc. due to which your family members can suffer from health issues is a bit of a complicated task. What has been seen earlier is that many owners who tried to clean and maintain their property without having the skills or the right set of tools ended up wasting their time and failing to get the best outcome. So if you don't want to do that then hiring the experts for regular house cleaning in Melbourne is the best thing that you can do.
If you are thinking of giving it a try before hiring expert cleaners for the cleaning service in Melbourne then there are a few important things specified below that you must do.
Tips To Save Time While Cleaning Your House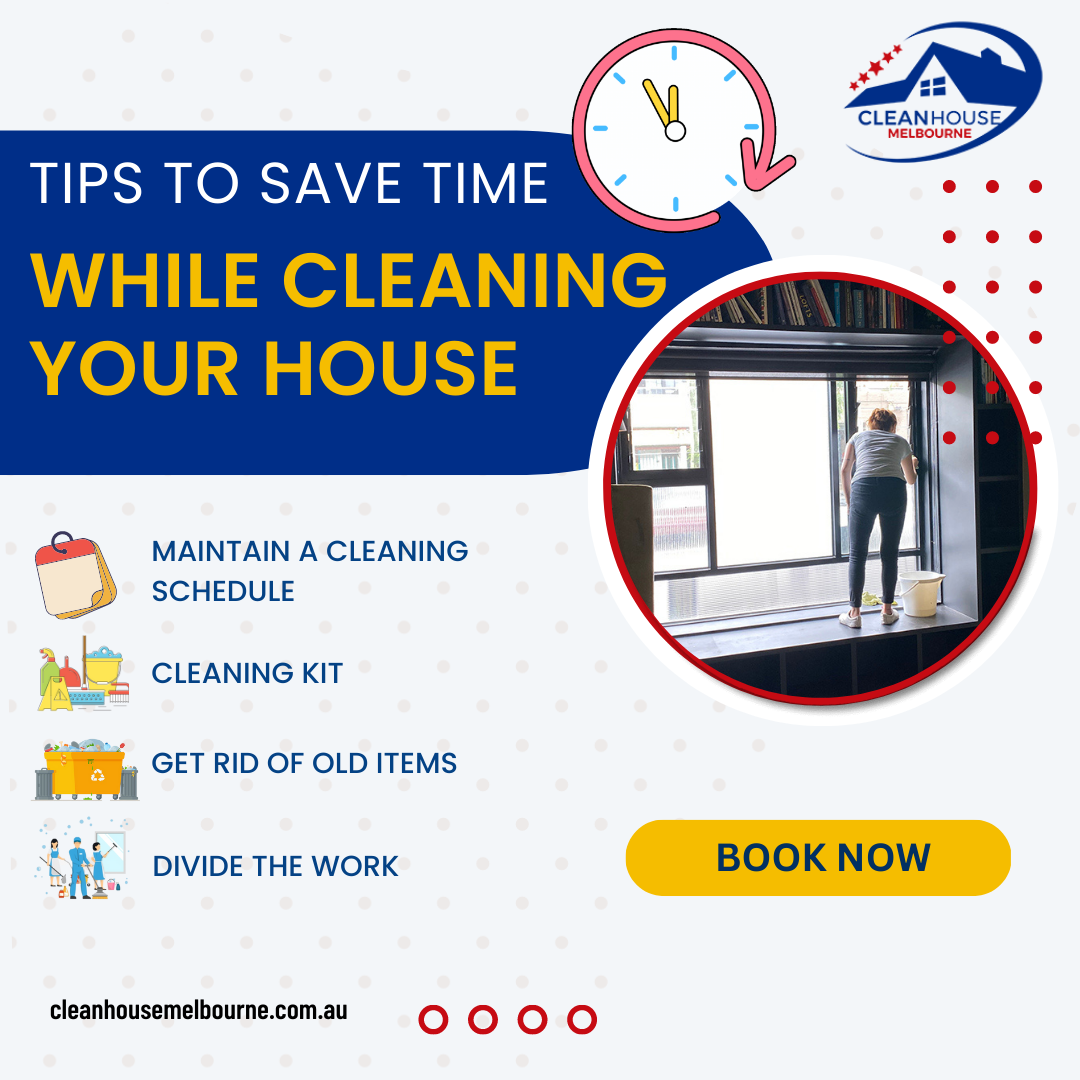 Maintain A Cleaning Schedule: The first thing that you need to do is maintain a cleaning schedule. This will help you to save your important time and complete the cleaning task easily.
Cleaning Kit: It is highly important to have a cleaning kit so that you don't have to waste your time looking for tools. Even professional Melbourne house cleaners

have their cleaning kit which they always carry with them at the time of offering the service.
Get Rid Of Old Items: One of the main reasons why even a big home start looking small and messy is because the property owners don't try to get rid of the old, damaged and unused items. So if you have furniture, appliances or something that you are not going to use ever then it is better to get rid of it. It will become easy for you to manage house cleaning and complete the work on time.
Divide The Work: A simple thing that you can do to keep your home in the best condition and clean the space in less time is divide the task. You should ask the other family members to help you with Melbourne house cleaning.
These are the few important things you need to do to provide a safe and healthy living environment for your family members. The new year is just going to start in a few days and if you don't want to spoil your time in cleaning and maintaining the look of your home then hiring the expert house cleaners in Melbourne who specialise in offering the best house cleaning in Melbourne within a reasonable price is the smart thing you can do.
To hire professional cleaners in Melbourne for our company you just have to give us a call at 03 9000 5252. We will be right there on time to offer you a great home cleaning service. Since the expert cleaners of Clean House Melbourne are trained, insured and certified to offer the service, hence you don't have to take any kind of stress. One of the best parts of hiring us for regular house cleaning in Melbourne is that we do offer a warranty. So you can easily sit back and relax.