Commercial COVID Disinfection Service in Mernda
Carrying out commercial disinfection services in the wake of the COVID 19 pandemic is another proposition. The process asks for an altogether different way of cleaning procedures, use of different genres of state-of-the-art tools, and high-quality govt-approved, hospital-grade cleaning agents.
Now, this is not anybody's cup of tea. Even professionals who are into conventional professional cleaning might not be able to meet the needs if they are not adequately trained. This is where we at CLEAN HOUSE MELBOURNE score over other service providers. With years of experience to our credit and a team of highly qualified and specifically trained cleaners, we come up with some commercial corona virus cleaning & disinfection services in Mernda.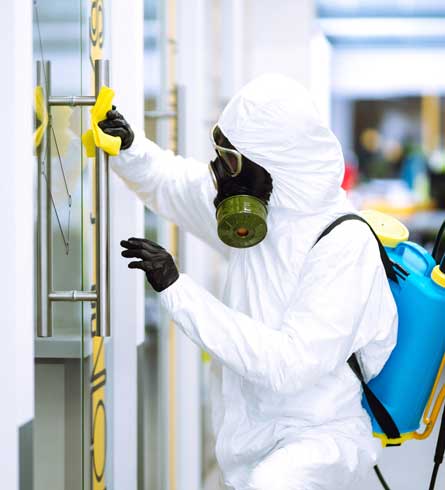 How do we make a difference in COVID Cleaning?
Right from the early days of our endeavour our mission and vision have always been to justify our clients' investment in us and serve our clients in the best possible way. Thus, under these present circumstances, we have followed the same old business principles of delivering nothing but the best. Therefore, not only do we press into service our best cleaners for commercial disinfecting & sanitising services in Mernda, but we ensure that they are impeccably trained as per the Govt rules and regulations so that they are never found wanting in terms of quality.
We regularly check the health conditions of our cleaners and we remove the line of duty any cleaner with even the middles or remotest symptoms of COVID 19, like mild flu, sore or itchy throats, cold and cough, running nose and the likes. This ensures that we are never the source of any outbreak of the virus at your commercial property.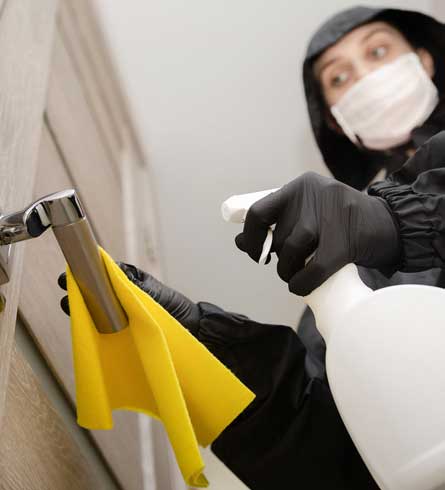 How do we work?
We would ask you to confine yourself to a separate sector of your commercial property, as we carry out the cleaning, to maintain social distancing at the highest level. Our cleaners would turn up at your site in safety gears like PPEs, masks and face shields, gloves.
They would carry out commercial fogging disinfection and sanitisation in Mernda, using specialized fogging equipment or mist sprayers to ensure every nook and cranny of your property is cleaned and disinfected. We follow it up by thorough manual cleaning of every hard and soft surface using hospital-grade, Govt- approved, eco-friendly cleaning agents. The surfaces they would clean would include all doors knobs and handles, the handle of desks and shelves, the work stations, the phones –both table phones and mobiles, the CPUs of PCs and their monitors and mouse and keyboards, other office and business appliances, the chairs and tables, the décor, carpets and upholstery, the pantry and the washrooms and toilets to ensure they are thoroughly disinfected and sanitized.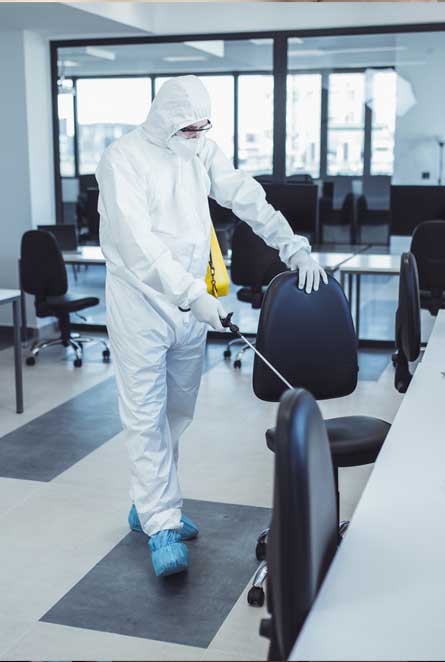 Where do we offer our commercial COVID cleaning service?
We come with our services at schools and daycare centres, aged care clinics and offices, ambulances, hospitality sectors, and manufacturing units and offices.
We use a wide range of eco-friendly cleaning agents, which helps in the removal of oils, grimes and greases, water carbonate deposits, rusts and soap scum, mildew and algae, and other dust and dirt particles. This ensures that the risk of infection is pushed to the minimum.
While taking on the drains and sewerage of sinks and basins, we use acid-based foaming solutions, which will help the removal of viruses and bacteria from the damp drain interiors. It also solves perpetual pathogenic problems that plague ion glass, stainless steel, and tiled surfaces.
In short, when you CONTACT US, we come up with a comprehensive service that facilitates perfect commercial COVID cleaning in Mernda. Hence, call us now to know further about our details.